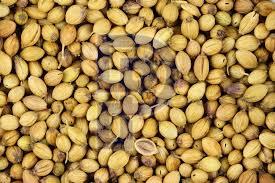 Coriander is native to South-Eastern Europe and grown widely all over Europe, Middle East, India, China, and Turkey. Coriander is recognized as cilantro in the west. This is a herbaceous plant that grows up to 2 feet in height with branching stems, featuring deep-green soft, hairless bi-lobe or tri-lobed leaves. The mature coriander plant bears small light pink color flowers that eventually turn into globular or oval-shaped fruits or seeds called coriander seeds. These seeds measure about 4-6 mm in diameter with a central hollow cavity containing two vertical vittae with some important essential oils. When the plant turns brown, the coriander seeds can be ready for harvest and the leaves of the plant begin to dry and fall.
Coriander seeds are common ingredients in curries and used in various cuisines worldwide. The seeds are small and round having a Kelly green/yellowish-brown color. Generally, coriander seeds have a lemony citrus flavor.
Coriander seeds are known for the medicinal properties all over the world. These seeds are a great source of iron, potassium, vitamins A, K, and C, magnesium, folic acid, and calcium that are beneficial in healing many health issues.
Some of the health benefits of coriander seeds are as follows: -
• Coriander seeds can beneficial in maintaining blood glucose level and have stimulating effects on the endocrine glands. The seeds function to increase the insulin level in the blood by enhancing the secretion of insulin in the pancreas. This aids in proper absorption and assimilation of sugar, resulting in a marked decrease in the blood sugar level.
• The coriander seeds can reduce bad cholesterol (LDL) and increase good cholesterol (HDL), thereby preventing and treating cardiac problems.
• The presence of antioxidants like riboflavin, niacin, folic acid, vitamin A, vitamin C, vitamin K, calcium and carotene, make coriander seeds beneficial in maintaining joint health and the prevention of osteoporosis.
• The presence of borneol and linalool in coriander seeds help in the process of digestion and preventing diarrhea which is caused by bacteria. Compounds such as limonene, cineol, beta-phellandrene, and alpha-pinene present in the coriander seeds, are known to have antibacterial properties.
• Coriander seeds have compounds like linoleic acid and cineole that are known for their antiarthritic and antirheumatic properties.
• Coriander seeds are rich in disinfectant, detoxifying, antiseptic, antioxidant and antifungal properties and are very useful in curing skin conditions like eczema, dryness, and fungal infections.
• Coriander seeds contain high iron content and are beneficial in the prevention and cure of anemia.
• When consumed with powdered aniseed, the powder made from dry coriander seeds is an excellent remedy for fever.
• Coriander seeds can detox our body from heavy chemicals like arsenic, lead, mercury, etc.
• They are also helpful in curing stomach problems, nausea, most of the eye problems, allergies and regulating the menstrual cycle.
For purchasing coriander seeds, you have to look out for a trustworthy coriander seed exporter in India. Coriander seed exporters in India are indulged in providing quality and hygienically processed coriander seeds in the market. They also ensure the moisture-proof packaging and optimum freshness of the provided product.